Javi García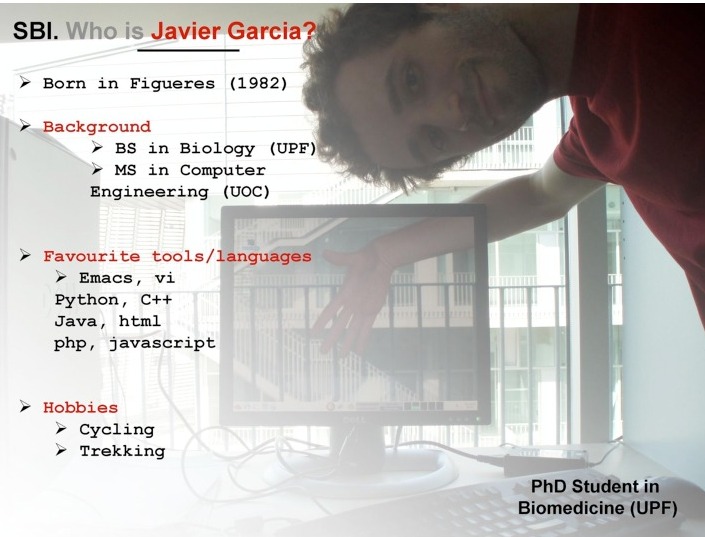 Phone: +34-93 316 05 10
Fax: +34-93 316 05 50
E-mail: This e-mail address is being protected from spambots. You need JavaScript enabled to view it.
Publications
Garcia-Garcia J, Schleker S, Klein-Seetharaman J, Oliva B. BIPS: BIANA Interolog Prediction Server. A tool for protein-protein interaction inference. Nucleic Acids Res. 2012 Jun 11. PubMed PMID: 22689642.
Javier Garcia-Garcia, Jaume Bonet, Emre Guney, Oriol Fornes, Joan Planas and Baldo Oliva. Networks of Protein-Protein Interactions: from Uncertainty to Molecular Details. Review. Molecular Informatics, 2012.
R. Sanz-Pamplona, J. García-García, S. Franco, X. Massagué, K. Driouch, B. Oliva and A. Sierra. A taxonomy of organ-specific breast cancer metastases based on a protein-protein interaction network. Mol Biosyst. 2012 Aug;8(8):2085-96. Epub 2012 Jun 18. PubMed PMID: 22710377.
Schleker, S., Garcia-Garcia, J., Klein-Seetharaman, J. and Oliva, B. Prediction and comparison of Salmonella-human and Salmonella-Arabidopsis interactomes. Chem Biodivers. 2012 May;9(5):991-1018. doi: 10.1002/cbdv.201100392. PubMed PMID: 22589098; PubMed Central PMCID: PMC3407687.
Planas-Iglesias J, Guney E, García-García J, Robertson KA, Raza S, Freeman TC, Ghazal P, Oliva B. Extending Signaling Pathways with Protein-Interaction Networks. Application to Apoptosis. OMICS. 2012 Mar 2. [Epub ahead of print] PubMed PMID: 22385281.
Garcia-Garcia J, Guney E, Aragues R, Planas-Iglesias J, Oliva B. Biana: a software framework for compiling biological interactions and analyzing networks.  BMC Bioinformatics. 2010 Jan 27;11:56. PubMed PMID: 20105306; PubMed Central PMCID: PMC3098100.
Aragüés R, Garcia-Garcia J, Oliva B. Integration and prediction of PPI using multiple resources from public databases. J Proteomics and Bioinformatics. 2008. 166-187
Submitted:
Joan Planas-Iglesias; Jaume Bonet; 

Javier
Garcia-Garcia

; Manuel A Marin-Lopez; Elisenda Feliu; Baldomero Oliva. Understanding
protein-protein interactions using local structural features. JMB. Submitted.